We started the cooperation with Amsterdam Scientific Instrument (http://www.amscins.com/) in their neutron detector development. We aim for a high resolution detector that could be used for the MISANS option.
To illustrate the resolution of such a detector we have used it for imaging which is not in the LARMOR proposal but gives a good impression of the advantage of neutrons.
In the first improvised setup we have taken some pictures of items that can be found within reach of the neutron beam.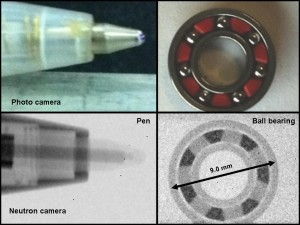 One can clearly see the advantage of neutrons. The sensitivity for Hydrogen is clearly demonstrated, the ink in the pen is more visible than the metal. Also the metal balls in the bearing are less visible than the plastic cup. This is a strong complementarity with x-rays who will show the reverse sensitivity.
We can now reach a resolution of 50 micron which can be improved significantly.